Global Attunement for Peace
Global Attunement for Peace

Global Attunement for Peace
Peak event: September 21, 2012
Celebrate the International Day of Peace by joining with thousands world-wide in a unique 90 minute Global Attunement for Peace. This event will link via tele-conference and audio webcast multiple hub-sites around the world at locations of spiritual and political significance in a profound expression of planetary spirituality and global subtle activism.
The Gaiafield Council, a group of leaders in the fields of spiritual peacebuilding and subtle activism, have met via teleconference every Friday morning for the past four years to practice together a process that has come to be called "Gaiafield Attunement." For most of 2011, our calls focused on opening to guidance about what contribution we felt called to make in 2012. Repeatedly our guidance was simply to invite more people into the sacred field that had been developing through our weekly calls. We invite you to experience the simple, yet profound process of tuning into the Gaiafield, with friends around the world, as an act of personal and planetary healing.
We will convene two calls, so as to accommodate those in different timezones.
Call 1: 9-10.30PM US Pacific September 20/4-5.30AM GMT September 21
Call 2: 9AM-10.30AM US Pacific September 21/4-5.30PM GMT September 21
Gaiafield Global Care Room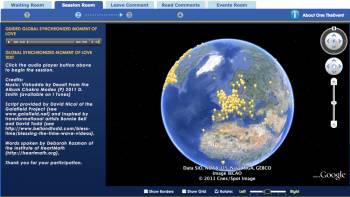 We will use the Gaiafield Global Care Room – developed by the Institute of HeartMath's Global Coherence Initiative – to support our global interconnection throughout the summer in the northern hemisphere/winter in the southern hemisphere and during the September 21 event.
Global Attunement for Peace

Global Attunement for Peace
Activation event: June 22, 2012
We are delighted to have launched our summer program (in the northern hemisphere) to build a global field of peace with a highly successful Global Attunement for Peace on June 22 – thank you so much for those of you who participated! The event linked, via teleconference and audio webcast, 8 live hub-sites world-wide and hundreds of online participants in a beautiful collective meditation to support world peace.
Click here to listen to the event recording.
The field of peace has been initiated! Help us grow the field by joining in our weekly Spirituality and Peace calls, in conjunction with the "Summer of Peace" program and/or by visiting our Global Care Room at any time from now through the end of September.